Ok... Solidworks 2017
I have this machine I am designing that picks up weight and sets it back down (short explanation)
I have the machine assembly containing the frame, weighted bar, motor/gearbox, and shaft.
I made a chain path with ANSi roller chain on it and the chain travels as desired. (Capture1.jpg)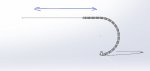 When I add the chain path assembly to the machine assembly and try to move the chain it will not move. If I mate the connection link to the sprocket on the shaft, the sprocket will turn but the chain path just rotates and the chain will not slide on the path (Capture2.jpg)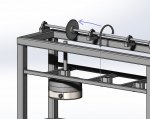 Is there anyone willing to help me accomplish this assembly?
I need the chain to attach to the vertical linear rod and wrap around the sprocket so when the linear rod moves up and down, the chain will follow it and rotate the sprocket.