Hi all,
First of all I am pretty new at this. It is for my Bachelor Thesis. I have to create a Mold for this particular part and print it later with PolyJet 3D Printer and use the printed mold in Plastic Injection Machine. The design of the part doesnt belong to me. My supervisor sent the .stp file and i converted with Solidworks to .SLDPRT file
I watched tons of tutorials in youtube but still couldnt solve my Problem.
My main Problem is creating a Parting Line. The upside of the Sample is not symetrical so i cant create a complete mold.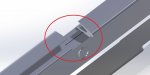 Can you please help me?
Thanks in Advance