Hi,
I am currently a student and we have been using solid works lately and love it so far. I seem to have however run into a bit of a problem.
I am unsure how to mate these 2 parts together.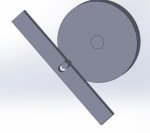 I want the little rod sticking out to be able to slide along the profile of the grove I created there. Basically as the disc spins, the rod would need to move back and forth. I have tried numerous things but end up having the rod move up and down with the disc.
Any suggestions?