Hi,
This is my first post and I'm new to using Solidworks Simulation.
I've been trying to simulate a carabiner drop test. I was wondering what would be the best way of doing this?
I modelled two pins and the carabiner body, the two pins were given tangent mates and the forces were applied vertically. I also gave them 'no penetration' contact sets. The force was applied to the bottom pin whilst the top pin was fixed.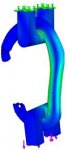 In order to get the simulation to work I had to set the properties to automatic, whilst the simulation was running a box about 'large displacement' popped up, the simulation would fail if I re-did the simulation with the large displacement box ticked, when I clicked no I got some results.
Are there any improvement I could make? What is the most effective way of running the simulation? Is it possible to graph the results?
Any help will be greatly appreciated!!