Hello,
I have a problem with SolidWorks2011 (on Win 7, x64 bit processor, and PDM enterprise repository), which i was tasked to couple with shared toolbox. Everything went fine, untill a wanted to render a testing screw and it wasn't generated properly.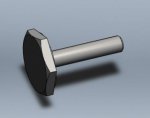 This was resolved with importing setting from functional SolidWorks on another computer. But then another challenge surfaced. With local toolbox parts were generated OK, but with shared one it was generated like this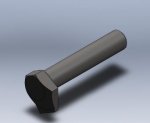 I have already tried several reinstalls with registry cleaning, windows update fixes, the only thing i haven't tried is clean win install from scratch.
All ideas will be apreciated