Hi there I need some help.
I am making a equation for a beam I am designing.
My equations work however when I modify my dimensions my sketch does not stay centered.
I have done run into this problem before and have solved it....however today I am stumped and could use a hand.
The photo should better express the issue....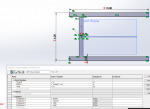 I would like the center beam to stay centered....what relation am I supposed to use for this?
Thank you so much!
Adam