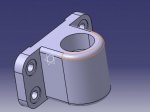 Hi, i'm a university student and this year we're having a first look into catia: until now we learned the CAD part and we are now working on the CAM part. Specifically we are working on prismatic machining.
This holidays i was trying to work on a part so i could get a better understanding on prismatic machining but there was a piece of the design that i couldn't work out how to do it, i highlighted this piece on the attached image. I was trying with the contouring command but it didn't work out.
Do you have any tips or could you teach me how to do it with the commands in prismatic machining?
Thank you in advance for your help!
Last edited by a moderator: