VisualARQ 1.5, the plugin of architecture for Rhinoceros, is now available for download.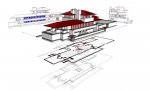 What's new in 1.5?
Rhinoceros 5.0 (32 and 64-bit) support.
Real-time plan views
(video)
.
New display mode 'Hidden'.
Control points in slabs
(video)
.
Improved object and style editor dialog.
Walls can be extended to roofs and slabs.
Download the
new Evaluation version
to have a free trial and test the new features.
All the best,
Francesc Salla