HELP!! Seems soo Simple..
Have a simple part that I am trying to do a few things to.
http://www.3dcadforums.com/images/smilies/confused.png
The rectangular block is ie.. and becomes variable length.. but for reference..
2.75 x 1.375 thick by 40 long lengths will vary
I am trying to put slanted slots ( extruded cuts ) in a linear pattern along the length
dims of the slots are 0.625 from right edge of arc to top of block 0.125 to left edge length of slot 2.53 - 0.395 wide..
Linear pattern will be variable and span depending on the length of the board (block )
I need to maintain the same 0.0625 distance at the bottom edge in the pattern .. problem I am having is that the linear pattern winds up going past the edge of the block .. when I increase the instances.. don't have a clue more how .. to force the pattern to stop short of the edge of the original surface..
oh please can any one help.. screen shot attached..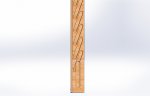 Bald headed Woman.. From Solidwords Pattern Frustration. haha